Do you keep flip-flopping between how much of the "real" inner work to include on your sales page beyond deliverables, # of calls, and modules?
With your audience reading but not CONNECTING and converting as quickly after hearing the same 2 sentence sales pitch call-to-action restating the tagline, container type, and length for the 5th time 👀
Second guessing the skills and gifts that come SO naturally & easily to you in sessions... aren't seen "as valuable enough" with your audience to

translate into a consistent source of scalable income without long DM convos or

multiple

 free offerings?

Tip toeing in your sales copy / pitch to try and ensure your people buy even though your heart keeps SCREAMING to claim your intuitive, neurodivergent, or *insert the topic or identity you keep pushing down* side that you actually WANT to be known and well-paid for?
TLDR: Wondering how to visually communicate the worth of your untraditional or intangible offerings so that clients see it as an instant "hell yes!"?
Than this free workshop for you.
Discover the power of high-converting Visual StorySELLing to showcase your unique offerings, solidify it as a scalable income stream, and overcome sales fears...(for real)
The Nitty Gritty:
Replay Available Until Wednesday, September 27th, 2023
❌ THIS IS NOT: A 53+ highly curated slide deck webinar that is pure fluff giving basic tips you learned two years ago. Or spending the entire time trying to 'convince' you need to hire me to be successful 🙅‍♀️
✅ THIS *IS*: Me pulling back the curtain on real time strategies I'm doing with clients to help them sell more of their transformational yet a bit intangible offer. Me doing live coaching with attendees to get your custom strategy before you hop off the call and prompts for replay people to begin their journey.
Strut out of this workshop with..
The specific visual changes to make on your sales page, to convey the invaluable transformation of even the most "intangible" of offers in a way that helps you get

paid

.
Allowing you to…
Spark your next level sales potential by conveying the Invaluable Transformation of Your Offerings Through Visuals

without another laptop mockup photo.

Because you and I both know another Canva design🎨  is not the way to sell more of your transformational offer with customers who care OR without feeling transactional.

Let the parts about your offer that make you EXCITED and lit up about this work all over again be front and center without having to rely so on forcing yourself to market what you think your people want or your last coach said would work.

Have your audience make your offer their #1 on next purchase list by discovering the power of visual storySELLing including dissolving the infamous 'I don't have enough time or money' objection — which for most of my clients is only one paragraph or image away.
Ready to begin?
Join the free workshop because you deserve to sell more of what truly lights your soul on fire and transforms your customers lives.   
I'M SO IN TO SHOW & SELL MORE OF MY OFFER!
           

BEFORE

                         

AFTER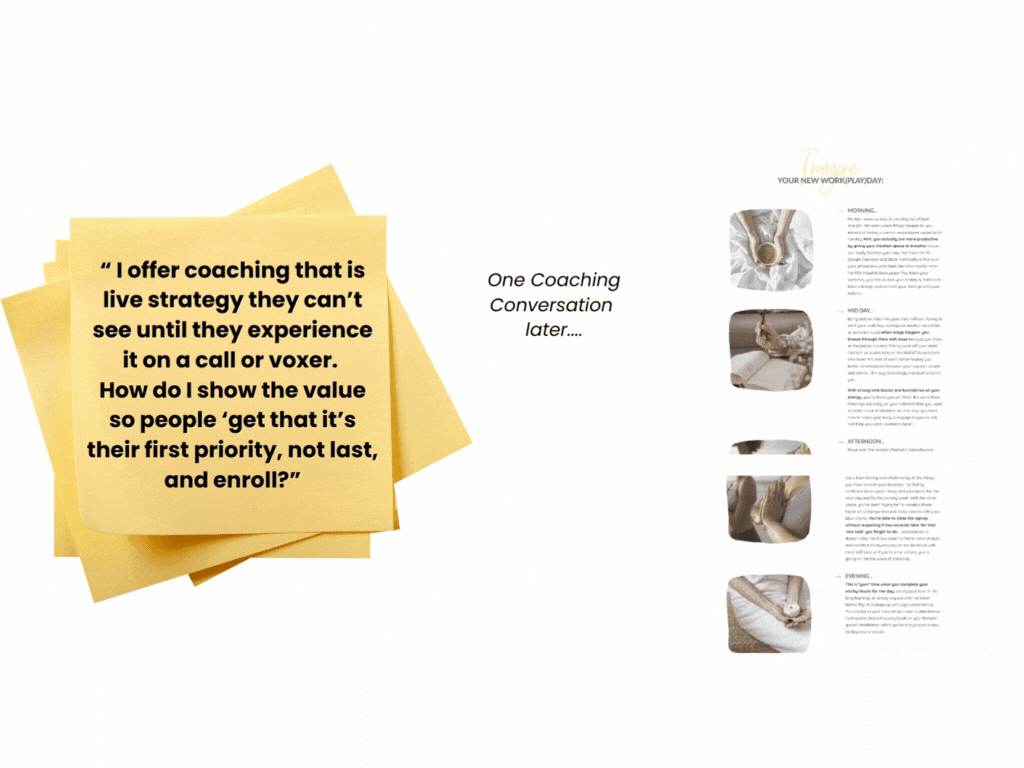 FAQ: Can this work for courses, products etc?
FAQ: How do I know if my offer counts as 'intangible?'
Hey! I'm Danielle Klemm, a Sales Funnel & Message Coach helping more rad entrepreneurs enroll more students into their proven offers without having to be so hands-on or do any gross manipulation tactics 🚫.
After working with dozens of entrepreneurs ranging from their first 6 figures to next million in revenue helping them achieve 60% sales increase in 10 days, revive a 'dead' audience and make 4 figure fully passive income month...I've noticed similar patterns that happen when it comes to selling:
Specifically a lack of depth missing from most sales assets/funnels leads to more lurkers instead of lifetime buyers. My hope with this guide is you begin to feel hope and connection with your audience once again that can lead to the sales you didn't even see coming, while having as much fun as you can get away with 👌.
This is perfect for any entrepreneur who noticed more page views than sales or wonder why their audience isn't fully grasping their offer beyond the tagline or 'what they get' modules until they experience a call or session with you.
I'M SO IN TO SHOW & SELL MORE OF MY OFFER!